How my Passion for Teaching gave me Freedom
"If you always do what you've always done,
You'll always get what you've always got."
 Henry Ford                           
Have you ever felt like there was more to life?  More than your Monday to Friday job?  More than living for the weekend?  More than working to pay bills?  More than having to be selective how you spend your time?  More than feeling guilty for once again putting work ahead of your family?  Feeling trapped?
Do you ever look back and feel like maybe life has cheated you a little bit?  The career and all the amazing bells and whistles that come with it just somehow didn't deliver all it was meant to?  Happiness always seems just out of reach – just past that next goalpost; that next milestone; that next objective.
That's exactly how I felt.  I had a successful career; a job I absolutely loved; and was grateful every day for the opportunity to use my skills, talents and passion to add value to other people's lives.  I was a Human Resources and Training and Development Manager in a top Hotel in beautiful Cape Town.  I was well-respected and influential.  I genuinely enjoyed getting up every morning to go to work.  I had built a great team around me and was fortunate to work for a highly ethical company where employees were treated like family.
While I worked in all elements of Human Resources, the area where I really shone and made my biggest impact was as a trainer, facilitator and coach.  I am good at developing and delivering training.  I love the opportunity to give people something that will be theirs for the rest of their life; and with that knowledge can go on to add value and impact others' lives positively.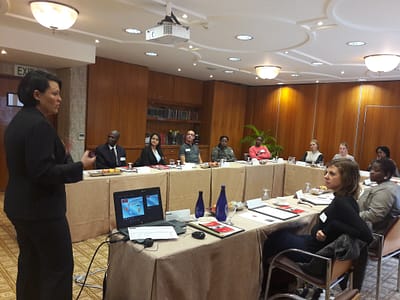 My days as a leadership trainer in the traditional class-room space
In addition, I really enjoy coaching.  I love that with a little time, attention and care I can create a space of safety for someone to reflect on themselves, unpack a challenge, face a fear or make a difficult decision.
My career afforded me a beautiful home in a very sought-after suburb.  I ate out several times a week.  I enjoyed a healthy lifestyle filled with wonderful outdoor activities.  A beautiful tribe of friends and family nearby.  There was nothing I could want for….
…. except the ability to travel.  Now I don't mean going on a two-week holiday once a year somewhere.  Yes, I could absolutely do that.  No, I mean going to really explore and experience a place properly – like a local – live there and suck the marrow out of the bone – and when I'm ready, I move on.  I had a yearning to know more, see more, do more, be more – and my traditional life just wasn't cutting it. 
I was stuck, with no idea of how to shift my life towards my dream…
…. until I stepped out of my comfort zone and started actively researching my options; and the digital world presented the perfect platform to seamlessly shift my current skills as a trainer, facilitator and coach into the online space.  But how can working in cyberspace ever replace the impact of face-to-face training and coaching?  That was my concern too, but my own experience showed me the following:
It's the teacher and the content that matters; not the platform
"Technology will not replace great teachers,
But technology in the hands of great teachers can be transformational."
George Couros                    
I did my first online training course through the University of Cape Town a few years back.  The institution became a leader in the online learning space in the South African context quite early on.  I wanted to formalise my coaching experience with a certification; but I was hesitant to sign up for the online course because I worried that I might not get the same learning quality as I would in a more traditional face-to-face course.  After doing some research and speaking to others that had completed the course, I went ahead and registered.  The design of the course and how it was delivered blew my mind.  I did not lack any of the advantages that I thought a traditional course would have.  I had direct contact with my lecturer and the tutors.  I was able to converse with my class mates.  I completed team work assignments with other delegates.  And was able to be assessed practically and receive feedback on my coaching.  All things that I thought would be missing by using an online provider rather than a face-to-face one turned out to be untrue.  But there were so many advantage: I studied when it suited my lifestyle, at the pace that worked for me.  I had the resources to spend more time on the areas that I found challenging and easily review the areas that were simple.  As the student I had full control over my learning something that I never really felt I had in the traditional space.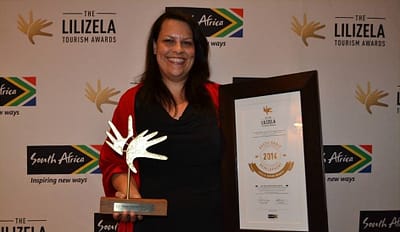 My work as a Trainer and HR practitioner contributed to the company I worked for being recognised as one the best companies to work for nationally
This got me thinking…. How difficult would it be to shift my skills that I am using to develop face-to-face training to the digital environment.  My lack of technical knowledge scared me.
I.T. isn't only for geeks; us nerds can learn it too
"Technology can become the 'wings' that will allow
the education world to fly further and faster than before – if we will allow it."
Jenny Arledge                      
I have never considered myself particularly tech-savvy.  I am more a people person, than a technical person.  Also, I'm a Gen X'er – while we work in the online space it doesn't come as easily to us as it does for the Millennials – so I doubted my ability to learn the necessary skills to make the move.  I was wrong.  There is a multitude of resources available on the net to learn this.  In fact, there is no better way to learn how to build an online course than through an online course.  I started following teachers and gurus and reading blog post and listening to podcasts.  I watched YouTube tutorials and participated in webinars.  I joined Facebook groups and Slack communities.  I found a wealth of information right at my fingertips.  I built my own website from scratch.  I started developing my own community of like-minded people; but it was slow-going.  With all the resources on the net, it is sometime difficult to assess which strategy, tactic, platform, product etc. is the best for my business.  So, I joined a 6-month business development program, which took me through a step-by-step process of all the technical and marketing aspects of building a business.  In addition, I had access to a coach and the ability to tailor the learning to the needs of my specific niche business – it was the single best decision I took in setting up my business.
This step really gave me the confidence that I can shift my business and utilise my skills in a different way.   But what about the costs; starting my own business will obviously cost a lot of money?
Starting a business has never been easier
"Don't wait for the right moment to start a business.
It never comes.
Start whenever.
NOW."
Lauris Liberts                       
As with every business there are costs involved; but the online space allows for really inexpensive start-ups.  In fact, under certain circumstance, one could start up at no cost.  When I compared it to traditional business, this is what I found:
An online business will likely reside on a website. While there are web-related expenses like hosting fees and plug-in fees, this is inconsequential in comparison to a brick & mortar business that pays rent and utilities and maintenance etc.

I knew I would have some marketing costs, but with the rise of social media, these costs were significantly cheaper and had a much larger reach than traditional print or broadcast advertising. Furthermore, reaching potential clients could be done from my computer saving the time and expense of cold-calling on potential clients.

Because as a trainer and coach I was developing informational products, there was no need for storing or handling of physical products.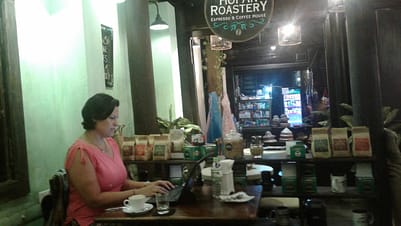 Working online from the comfort of a cool coffee roastery in Hoi An, Vietnam
Sounds perfect.  But, would I really make the impact that I was making as traditional trainer and coach.  My trainees and clients love me; and I am adding real value – can I really do this online?
The reach of people you can impact is exponential
"The only limit to your impact is your imagination and commitment."
Tony Robbins                       
As a trainer, I was training around 400 people per year.  I was limited by my time and the size of my classroom.  The online space would afford me the opportunity to reach far greater numbers of people, because the courses were scalable.  For most of the content I would be creating it once, but it could be accessed by unlimited numbers of delegates.  If I wanted to have a more personalised aspect to the training, I could build it in.  In fact, there is no reason why I couldn't use some of the more traditional learning approaches within in the online space and merge the two methods a I saw fit.  I also recognised that not every delegate wanted a personal experience; many just wanted access to information in a structured, reasoned program.   Also, there was no reason for me to choose.  I could be developing online training courses and also deliver the face-to-face training as well; if that suited me better. There is really no limit to the ways and the quantity of people that I can reach and impact.
More importantly, my exposure to many, many courses available online taught me the same thing that my exposure to many, many face-to-face programs did – that it wasn't the platform that determined the quality or value of a course; but rather the content, it's design and the expertise of the person delivering it (whether online or in person).
This all sounded great, but what did it have to do with my dream to travel?
Freedom was just a few keystrokes away!
"Freedom lies in being bold" 
Robert Frost                        
The scalable nature of online training made for the perfect conditions to set up a passive income stream.  For me this meant being able to embark on full time travel.  I write this from my current home in Siem Reap, Cambodia.   I've lived in Chiang Mai, Thailand and Hoi An, Vietnam; and have visited Nepal and Indonesia, so far…  thanks to my online business.
Reaching Anapurna Base Camp in Nepal in November 2017
What would it mean to you to create a passive income stream using the skills and expertise that you already use in traditional business?  A new home; better education for your kids; a dream holiday; less stress; more time with the people that matter?
Join our journey!
"Build your own dreams, or someone else will hire you to build theirs."
Farrah Gray                         
About the author
I am Alex – Happiness and Wellness Coach and founder of The Flying Phoenix.   In late 2017 I partnered with Gareth, the founder of The Freedom Fighter, to create IGNITE your Business.
Our mission is to help and inspire others to find their freedom.  Our goal is to actively support 1000 people to find their purpose; and within that, build an online business that impacts the world positively and in turn affords them the freedom to live the life they were born to live.