[et_pb_section fb_built="1″ background_color="#000000″ admin_label="section" _builder_version="3.0.89″ custom_padding="8px|0px|19px|0px"][et_pb_row admin_label="row" _builder_version="3.0.47″ background_size="initial" background_position="top_left" background_repeat="repeat"][et_pb_column type="4_4″ _builder_version="3.0.47″ parallax="off" parallax_method="on"][et_pb_button button_url="https://m.me/thefreedomfighter2015?ref=w1679289″ button_text="Get the Playbook!" button_alignment="center" _builder_version="3.0.89″ custom_button="on" button_text_color="#d1b517″ button_bg_color="#000000″ button_border_width="0px" button_font="||||||||" box_shadow_style="preset1″ box_shadow_spread="5px" box_shadow_color="#deb517″][/et_pb_button][et_pb_cta title="Six life lessons I learnt as a digital nomad" use_background_color="off" _builder_version="3.0.89″ header_font="|700|||||||" header_text_align="center" header_font_size="36″ header_text_color="#d1b517″ header_text_shadow_style="preset1″ header_text_shadow_horizontal_length="0.13em"][/et_pb_cta][et_pb_text _builder_version="3.0.89″ header_text_color="#edf000″ background_size="initial" background_position="top_left" background_repeat="repeat"]
On a warm afternoon in May 2014 I was getting ready to leave South Africa for a 6-month trip to Europe and Asia.  The excitement that I felt that afternoon upon leaving South Africa felt different though. While I was excited, with the normal butterflies I get before any trip, I also felt strangely free. Unattached.
For about 3 years leading up to that afternoon, there had been a persistent feeling of uneasiness inside me. My life was (on paper) exactly how it was supposed to be. I had a successful business, owned my own home, bought nice things and went on holiday two or three times a year. My business had been running for seven years and had grown nicely. Why then, did I feel uneasy? I was doing everything that I had set out to do. Things were going according to plan.
"Don't be so ungrateful", I would continually tell myself when I had any thoughts about wanting something else in my life, something more. "You've worked hard to get your business and your life to this stage, now enjoy it". Finally, after months of this continual back and forth with myself, the uneasy feeling in my gut grew to a point where I needed to do something.
"I'm done!" I told my business partner shortly after we sat down at the restaurant for lunch. Since we met and she had become a partner in the business, she'd also become one of my closest friends. The uneasy feelings had been further blurred by my thoughts of not wanting to leave her with the business that we ran together. "I don't want to do this anymore", I continued, "I'm not sure what I am going to do but I know it's not this." With each word that came out, I felt a little lighter. I had been carrying this for a long time. I waited for the explosion from her, which I'd thought would be her reaction. She smiled warmly and then softly replied: "what's taken you so long to make this decision?"
That's it? All these months of worrying, of being concerned about her reaction and here she was more calm and relaxed than I'd ever seen her. In the weeks that followed we worked out a plan that she was going to buy my share of the business and continue to run it in a way that was more suitable for her lifestyle and requirements and I made the decision to head off on a 6-month trip to decide what I was going to do next in my life.  I had no idea on that Wednesday afternoon just how much my life was going to change over the coming months.
Once I had decided to travel, I set two goals for myself on the trip. The first was to tick off as many items as I could on my bucket list. I've always had a list of things that I wanted to do before I depart this planet, and while I kept dreaming and adding to it, I often got anxious about how I was adding more items to the list than I was ticking off it. "I'm going to die with more things on this list than I've ticked off", I often thought to myself. It scared the shit out of me.
Trekking with new friends to Everest Base Camp in Nepal, a bucket list item.
The second objective of this trip was to find a way to make money online while travelling the world. I'd read "The Four Hour Work Week", four times in the previous five years and while I'd been fascinated by the concept of working online while you travel the world full time, I was uncertain that I had the skill set to make this a reality for me.
It's been three and a half years since that afternoon in South Africa. I'm currently sitting at my favourite vegetarian restaurant in Antigua Guatemala. The city has incredible architecture left behind from when it was ruled by the Spanish, it's cheap, has great weather and the people are incredibly warm and accommodating.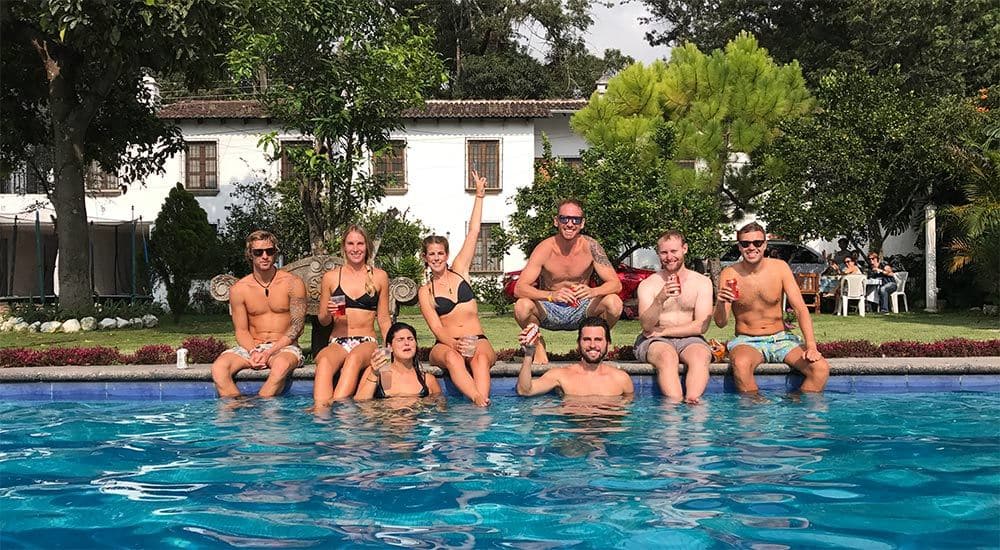 Hanging out with friends at the house the I rented in Antigua Guatemala.
The city is surrounded by five active volcanoes, that even after being here for three weeks still take my breath away when I catch a glimpse of them while I walk around the city. I've been living here for three weeks so far, and have just moved into an amazing home with a pool, joined a gym and a yoga studio, and I have paid my $80 for a month of co-working space. The co-working space is like a temporary office where I can go, grab a desk and work on my online businesses. They have great internet and good coffee and I can connect with other like-minded and smart people that work the same way that I do. They also have a great social program to engage their community, which includes things like cooking classes, volcano hikes, and group meditation.
"See an active volcano" – tick. Volcan Fuego Guatemala.
The reason that I ended up in Antigua, was a conscious choice, to tick off an item on my bucket list.Learn to speak Spanish. Antigua has many Spanish schools and for $80 per week, I have 4 hours a day of 1 on 1 lessons with my teacher. Antigua is one of the cheapest places to learn Spanish. My plans (for the moment) are to stay here for three months before heading to Mexico to live on the beach for a while and carry on learning to surf (yup another bucket list item). These plans though could change at any time as in the last 4 years they often have as I've met people along the way or learnt about other interesting destinations. I now live what feels like dream life and I make an effort to live each day as closely as I can to My Perfect Day.
Six life lessons I learnt as a digital nomad:
It would be impossible to talk about the thousands of experiences that have shaped me over the last three years, the people that I've met, new cultures I've been exposed to and the new way of living that has changed from a dream into a daily reality for me. Instead, I've decided to share a few of the most important, broad elements, that I observe and continually focus on in my life.
Your happiness is your responsibility. Not your partner, not your kids, not your projects and not your faith's. If you look for happiness anywhere besides inside yourself, you give up control of your happiness and make it the responsibility of the things that you surround yourself with. Take ownership of this aspect of your life.

Never settle. "You get what you tolerate". Without realising it I'd spent a lot of time accepting things in my life that, if I was completely honest, I was not 100% happy with. While this is not a quest for perfection in all areas of life, if there's something inside you that's been restless for a while, it could be time to listen to your "little voice" and pay attention to this important indicator.

Create space to reflect. We're unlikely to get different results, by doing the same things over and over again. I am certain that I could not have designed my life the way that I now live it, had I not created the space to get out of my "normal" environment and look at things differently. This doesn't have to involve travel, it's the idea of changing your environment to be able to see your life from a different perspective.

Have a plan for your life. And then stick to it. Review it often, and create daily habits and routines that keep you aligned with your plan. If you're not planning your own life, someone else will make you part of their plan.

Think outside the box. No kidding, we've seen this motivational meme on the wall of corporate offices for years. Yawn. But, when it comes to a strategy for your life, don't accept social norms to be "the only" or "best way" to achieve things. My belief used to be that earning money required long hours of work, in a fixed location and achieving scale meant adding more resources. By allowing myself to think outside of this old "box", I have now experienced a vocation that is profitable, scalable, gives me the freedom and flexibility to work from anywhere and, most importantly, helps others. I take some time each day to be grateful for the space that I'm in where I am able to work on projects that not only make money but also make a difference in the world and that I am passionate about.

Practice gratitude and acceptance. It's in our nature to always be dreaming and planning, often living in a future state. While I advocate the motivation that goals bring I believe there's an important balance to be achieved between these goals and appreciating what we have right now in this present moment. Develop a practice of gratitude, and take time to appreciate just how much we have in our lives already.

Christmas Fun – Surfing in a Santa Suit in India (Christmas 2015)
Looking back
As I look back at my journey, over 4 continents and 34 countries I realise that all of this came from making one difficult decision. I also realised that in most of life's challenges it's always the same decision that feels the most difficult, the first decision. Once that first decision is made everything takes a natural flow and the momentum and the magic begins.
10 days sailing the breathtaking islands in Croatia.
Join our journey!
"I may not have gone where I intended to go, but I think I've ended up where I needed to be." Douglas Adams
About the author
I am Gareth – Digital Nomad, adventure junkie, perfect day chaser and a life strategist. I'm involved in a few online businesses and the founder of www.TheFreedomFighter.net.
Along with my business partner on the Ignite Program, Alex, our mission is to help and inspire others to find their freedom.  Our goal is to actively support 1000 people to find their purpose; and within that, build an online business that impacts the world positively and in turn affords them the freedom to live the life they were born to live.
[/et_pb_text][et_pb_cta title="Get The Longterm Traveller's Playbook" use_background_color="off" _builder_version="3.0.89″ header_font="|700|||||||" header_text_color="#d1b517″ custom_button="on" button_text_color="#d1b517″ button_icon="%%32%%" button_text_color_hover="#000000″ button_bg_color_hover="#d1b517″ button_alignment="center"]
Are you interested in the idea of long-term travel, but are unsure about where to begin? Have questions about packing, visas or worried about how to fund a trip of this nature? We've compiled countless hours of research, thousands of dollars of "school fees" and many lessons learnt on the road into this comprehensive FREE guide. Just click "send to messenger" and we'll immediatley deliver the book directly to your Facebook Messenger inbox.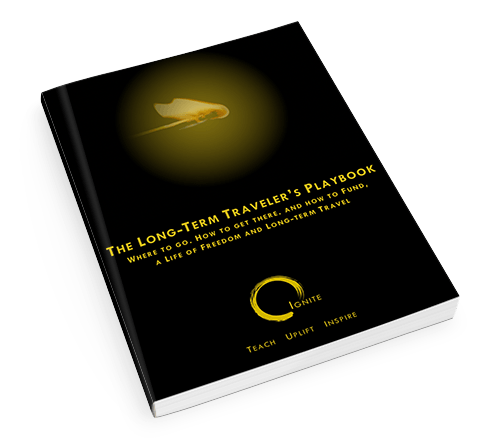 [/et_pb_cta][et_pb_button button_url="https://m.me/thefreedomfighter2015?ref=w1679289″ button_text="Get the Playbook!" button_alignment="center" _builder_version="3.0.89″ custom_button="on" button_text_color="#d1b517″ button_bg_color="#000000″ button_border_width="0px" button_font="||||||||" box_shadow_style="preset1″ box_shadow_spread="5px" box_shadow_color="#deb517″][/et_pb_button][et_pb_image src="https://mldkj0es06ze.i.optimole.com/w:auto/h:auto/q:mauto/ig:avif/https://igniteyourbusiness.io/wp-content/uploads/2017/09/Yelow-bar.png" align="center" _builder_version="3.0.89″][/et_pb_image][et_pb_code admin_label="Disqus Code" _builder_version="3.0.89″]<div id="disqus_thread"></div><!– [et_pb_line_break_holder] –><script><!– [et_pb_line_break_holder] –><!– [et_pb_line_break_holder] –>/**<!– [et_pb_line_break_holder] –>* RECOMMENDED CONFIGURATION VARIABLES: EDIT AND UNCOMMENT THE SECTION BELOW TO INSERT DYNAMIC VALUES FROM YOUR PLATFORM OR CMS.<!– [et_pb_line_break_holder] –>* LEARN WHY DEFINING THESE VARIABLES IS IMPORTANT: https://disqus.com/admin/universalcode/#configuration-variables*/<!– [et_pb_line_break_holder] –>/*<!– [et_pb_line_break_holder] –>var disqus_config = function () {<!– [et_pb_line_break_holder] –>this.page.url = PAGE_URL; // Replace PAGE_URL with your page's canonical URL variable<!– [et_pb_line_break_holder] –>this.page.identifier = PAGE_IDENTIFIER; // Replace PAGE_IDENTIFIER with your page's unique identifier variable<!– [et_pb_line_break_holder] –>};<!– [et_pb_line_break_holder] –>*/<!– [et_pb_line_break_holder] –>(function() { // DON'T EDIT BELOW THIS LINE<!– [et_pb_line_break_holder] –>var d = document, s = d.createElement('script');<!– [et_pb_line_break_holder] –>s.src = 'https://ignite-1.disqus.com/embed.js';<!– [et_pb_line_break_holder] –>s.setAttribute('data-timestamp', +new Date());<!– [et_pb_line_break_holder] –>(d.head || d.body).appendChild(s);<!– [et_pb_line_break_holder] –>})();<!– [et_pb_line_break_holder] –></script><!– [et_pb_line_break_holder] –><noscript>Please enable JavaScript to view the <a href="https://disqus.com/?ref_noscript">comments powered by Disqus.</a></noscript><!– [et_pb_line_break_holder] –>[/et_pb_code][/et_pb_column][/et_pb_row][/et_pb_section]